Stone House Signs
The team at Rustic Stone have been designing personalised house signs for properties of all sizes and ages for over a decade. We use natural materials, hand-sourced in the UK to make our stone signs, setting us apart from our competitors. As a rapidly expanding family business, we focus on providing great service and value for money, and have thousands of satisfied customers.
---
Why Us?
Our company vision has been kept simple since we started up back in 2001: we aim to provide high quality engraved stone signs, memorials and gifts. We are constantly striving to deliver excellent customer service and we love to hear what our customers have to say about our products and service.
Great Value
We have the experience not only to deliver a 1st class customer service, but also to provide you with a product that exceeds your expectations. Our prices are realistic and competitive, but don't compromise on quality.
Quality Products
For a high quality stone house sign that lasts, choose Rustic Stone. We use only the highest quality materials sourced here in the UK, which guarantees our products will stand the test of time.
---
Free Standing and Signs on Posts
These types of signs are ideal for customers that want a house sign for a named property or if they wish for their address number to stand out more than just a plaque on a wall or side of a house. Our free standing signs are made out of slate or york stone and are superb for sitting on walls or just on the ground.
House Plaques and Name Plates
Our stone plaques and name plates are among our best selling products here at Rustic Stone. These stones tend to be popular due to their versatility and how well they work with so many different types of buildings. These signs are great for displaying deeply engraved house names, house numbers, or even for use outside of pubs and other businesses.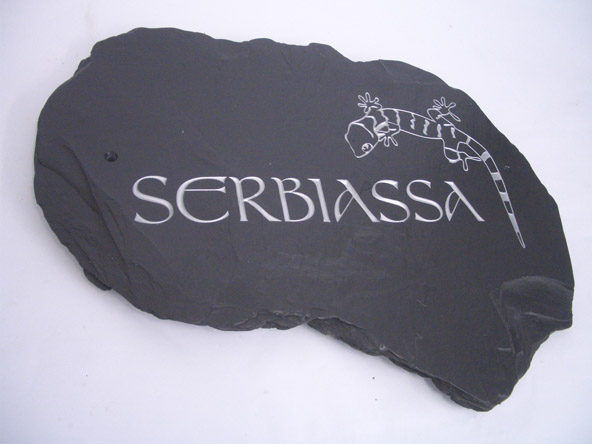 Hanging Signs with Brackets
Our hanging house signs can really make your property stand out and are a popular choice among our clients with larger properties. All brackets have high quality powder coated finish, and are available as wall mounts or free standing frames.
Modern and Contemporary Signs
Our fantastic contemporary house sign designs are perfect for anyone wanting a high quality, modern look. Use our online design tool to see all the styles, fonts and designs available.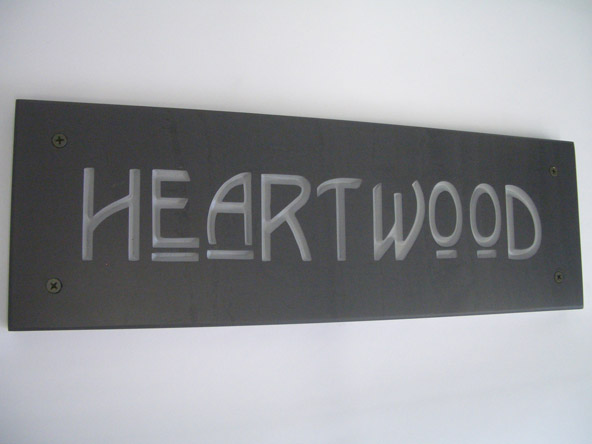 Business Signs (Indoor & Outdoor)
We are very popular with businesses and commercial property owners across the UK. We often get asked for vintage or modern business signage and since stone is very versatile we are able to easily provide both. Our signs are fantastic and will work great any type of business, from outdoor small businesses to indoor enterprises.
Custom & Bespoke House Signs
All of our house signs are custom made. Our online Design & Buy tool is easy to use, containing dozens of pre-loaded images and fonts to help you create a bespoke sign for your property.
---
Customer Reviews verified by TrustPilot
Average Customer Rating:
4.5/5 Stars based on 11 customer reviews
Perfect

I have just received our sign. It is perfect, just what we were hoping for and VERY well packaged.
Thank you!

Verified Purchase
5/5 Stars
1st class in every way

Verified Purchase
5/5 Stars

Just wanted to say we are delighted with our sign. It was hung the day after receiving it. We will be recommending your business to our friends and family.
Gorgeous!

Verified Purchase
5/5 Stars

Sooooooo pleased with my new house sign. Jeremy was extremely helpful with the design, it came in good time and looks great!!!! Surprised at the size and quality, have had compliments and only got it yesterday!!! Thank you!!
Excellent service & an excellent end-product

Verified Purchase
5/5 Stars

Jeremy was quick to respond and really helpful – he took our original idea and improved it, and could not have been more amenable. The sign arrived in good time, and was exactly what we wanted, perfectly executed. In fact, we've already had some people comment on it and ask for Rustic Stone's details.
Fast service, great product & good communication.

Verified Purchase
5/5 Stars

Sign ordered easily and finished product was excellent.
Very helpful and excellent quality work

Verified Purchase
5/5 Stars

I loved the idea that I could design my own sign with my own fonts and logos. The team were really helpful and I'm very happy with the sign
Excellent service and lovely product

Verified Purchase
5/5 Stars

Having been scammed by another website, when I ordered and paid for a slate house sign that never arrived, I was very dubious about ordering again. Especially as many of the websites I looked at were obviously other trade names of the scam website I had already used.

I was unable to find what I was looking for locally and so eventually found rustic stone. Jeremy was able to put my mind at ease about ordering online from him and was he very helpful. I received my order promptly and exactly as described. I would thoroughly recommend Rustic Stone.
A job well done again!!

Verified Purchase
5/5 Stars

This the second time I have brought from Rusticstone. The service from beginning to end is first class nothing is too much trouble! I will most defiantly be buying from them again!
ok.. but could do better

Verified Purchase
3/5 Stars

Saw this on ebay but their own website allowed more choices. Being able to design and use own clipart/picture is a good touch (perhaps more font styles would be better? ). The online designing was nice and easy. Waited for it longer than usual because he went on holiday (why wasn't I notified? hence minus 1*).

Was very pleased with it when it arrived – all as I designed. There was a slight problem with it though.. one side was very thin making fixing to wall butt clenching nervy as too much pressure on screwing in would have broken it…remedy was a few washers as packing (for this another minus 1*). Overall though I would recommend them.
Highly recommended!

Verified Purchase
5/5 Stars

Excellent communication – extremely helpful from initial design right through to delivery. Very good quality workmanship and a very impressive stone sign at a good price. Definitely plan to buy another one and have no hesitation recommending Rusticstone to anyone.
We have had two orders and found Rustic Stone to be professional, efficient and provide a quality product.

Verified Purchase
5/5 Stars

Lots of people have remarked how good our Rustic Stone slate signs look. One is a house name and the other is a humorous warning sign to visitors as we have two dogs. Each sign even has an image of our dogs. I would have no hesitation to recommend Rustic Stone