Pet Memorials
The death of an animal or pet such as a horse, cat or dog or maybe even something more exotic can be extremely hard for the whole family when you become emotionally bonded, with most this can be as devastating and comparable to a death of a human loved one.
The experience can be even worse if you the owner has had to make a tough decision to end the pet's life through euthanasia means, whatever reason for the passing of your animal it's never easy and we at Rustic Stone know from firsthand experience exactly how tough it can be for you and your family.
We strongly believe that any pet or animal that touches your heart should have some kind of burial, should you decide on a straight forward garden burial, pet cemetery or even the scattering of your pet's ashes in a remembrance area our pet memorials are perfect for the job. We make beautiful pet memorials made using real solid stone and rock, perfect for all pets and animals. We have been in the pet grave markers business for over 10 years and have the experience, knowledge and competitive pricing to make purchasing a garden pet grave marker, or ashes marker as simple and as much hassle free as possible.
A really nice example of one of our fine headstones that we made for a customer for an animal called Katie.
This is one of our sandstone plaques that have been made for Tabatha the cat, check out the nice use of the paw print image and a great example of the kind of images we can engrave onto your stone.
A rectangle slate plaque made for a dog memorial called Pepper, a really good example of the quality and deepness of our engraving of personal messages.
Some of our products can be mounted onto solid walls, just checkout this nice image, RIP Daisy.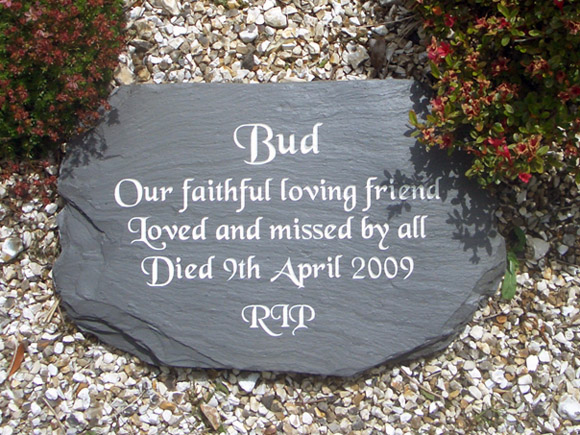 Do you have a gravel based garden, soil or even chip based garden? No problem our products use natural rocks that work well with most if not all contrast of gardens.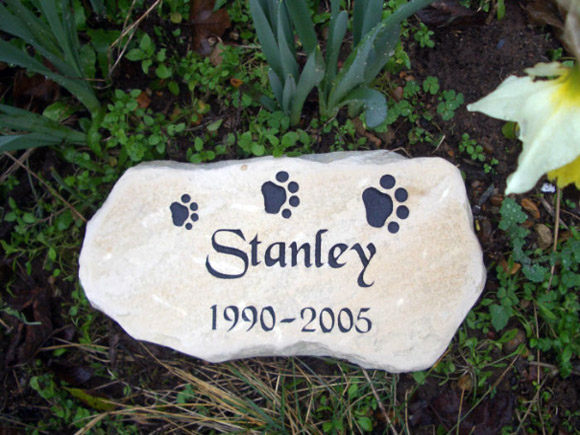 Sandstone is one of the most popular material types we use and looks great in darker flowerbeds or grass patches, sandstone also works well with darker engraves such as black.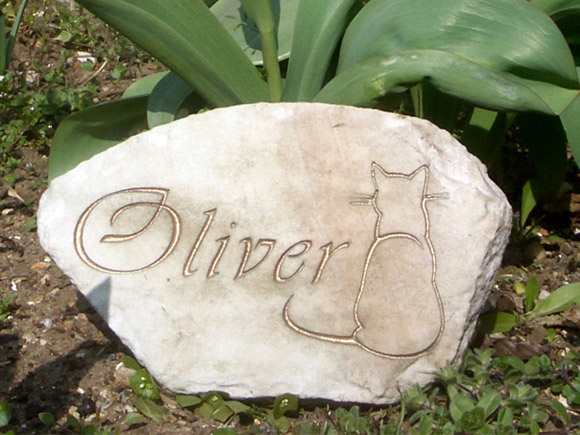 Should you have an idea which our online purchase tool does not cater for please call us!
To Purchase Any of These Products
simply click Design and Buy link found directly below.
Design and Buy one like this in the online studio – or Contact Us to discuss your requirements.
Pet Memorial Plaques and Free Standing Pet Memorials
Our plaques are absolute perfect for mounting onto walls or by simply placing them onto the ground on some kind of flowerbed, grass or even some stone gravel within your garden or remembrance area. Our plaques are available in various shapes as well as different rock types.
The freestanding stones we sell are also often referred to as pet headstones; these are great for all garden types and pet cemeteries. Make your pets grave in style with our solid slate rocks and customizing the headstone with your personal message to your beloved animal.
These stones do vary in thickness but the minimal you will receive on your online order is 50mm, and up to 80mm that is almost 30mm more than the average compared to our online competitors. We know from experience that headstones for pets really need to be a decent thickness otherwise they will fall over from the UK windy weather, a topping stone can often leave damage flowers or grass in your garden due to the pressure of the stone if it is not found quickly, but rest assured our stones are extremely heavy and will stand up straight against some of the worst weather the UK has seen.
---
Remembrances and the Materials we use
Our remembrance stones for pets are available in various materials such as slate, marble and sandstone. We have provided memorials for pets in many different types of stones over the years but Rustic Stone has found that marble, slate and sandstone are the best for all memorials. The stones we sell are all handpicked from local quarries here in the UK, we always check for decent thickness and free from undesirables such as deep cracks and chips.
Slate
We use several types of slate sourced from all over the UK, slate is an extremely tough stone and requires little maintenance. Because the stone generally a darker stone compared to sandstone and marble white engraved text or a lighter color works best.
Sandstone
We offer sandstone plaques that are great for high and low contrast gardens, it works extremely well with darker flowery flowerbeds, gravel beds, grass or even leading it up on a tree. Because this is a lighter stone dark text works really well and makes it incredible easy to read no matter how sunny the day may be.
Marble
Our marble plaques are great and generally better if you want a smooth and reflect-able stone, we offer this type of material in various sizes but please note we do not always have it in stock so please check with us before placing an order if you are in urgent need of this remembrance.
---
Maintaining your Rustic Stone
Our garden remembrances do not rot, fade or tarnish compared to that of wood, metal or plastic pet memorials. One of the major factors that other manufacturers of funerals for animals fail to mention is that in the UK we have very frosty mornings and these can damage plastics, wood and make metals flake or rust. All our products require as little maintenance as possible so you are able to remember your pet without having the worry of repairing, maintaining or even worse having to replace the item.
The maintenance our products require is the occasional brushing off dust and leafs from trees or even a touch-up of paint on the engraved text depending if you used a color your purchase, with this said we use high quality paint that is water proof and has high protection from the sun, even though in the UK we don't get many shinny days over the years they do add up and this should make your paint job last longer. We use high street paint for the engraving so should you need to touch the stone up occasional you will be able to do so without having to order specialised paint.
---
In Memory of Pets
All our pet and animal markers are fully customizable, should you want a unique engraving style using many of our preloaded stylish fonts, or maybe you want to use an image on your pet memorial, our online tool will allow you to put your ideas into a working product.
It's worth mentioning that a lot of providers online for this type of product will charge per the character engraved onto the stone, we do not charge any more than the standard price and you are welcome to fit as many words as we can possibly fit, should you want to write a lovely pet poem for your animal then it's absolutely no problem.