Stone Memorial Plaques
Our Natural and Regular Cut memorial plaques and tablets are made using the engraving techniques available and we use the finest handpicked selected stone, we have be engraving onto many types of stone for many years and with over ten thousand sales online we not only have the compassion to deal with your order without hassles we actually have more experience than most of our online rivals.
Below you can find many examples of plaques that we have sold to our past and returning customers, by looking at our images it should enable you to get a rough idea on the high quality we constantly provide day in day out on all of our memorial plaques.
It's worth mentioning that should you see an item that you like the look of then we can try to replicate that product, however should you want a natural edge plaque and not a straight edge memorial then it may be impossible to get an absolute copy since they are completely natural and no two are alike though we will try our hardest with the closest match possible.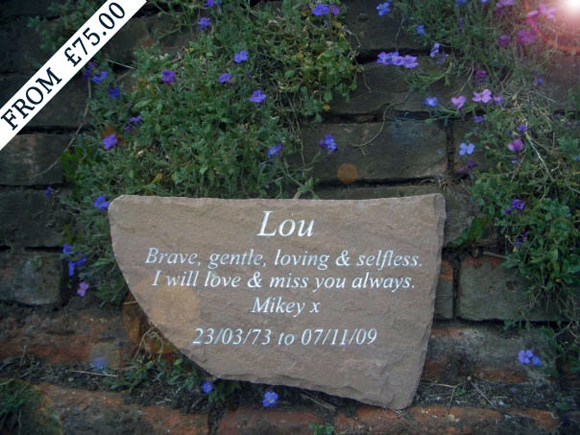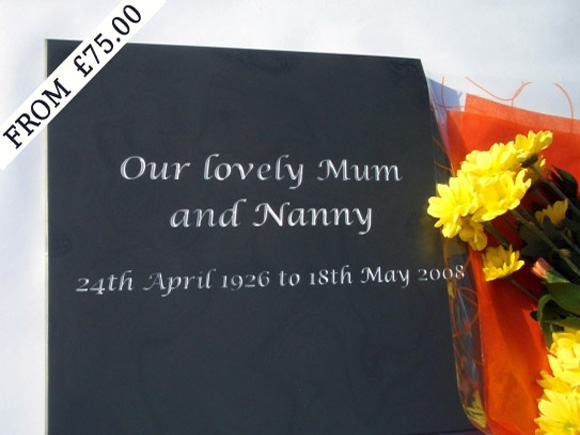 All our products are available in 'marble, sandstone and slate' need advice? please contact us.
We stock various sizes of sandstone, marble and slate. Contact us should you require any advice on selecting the material.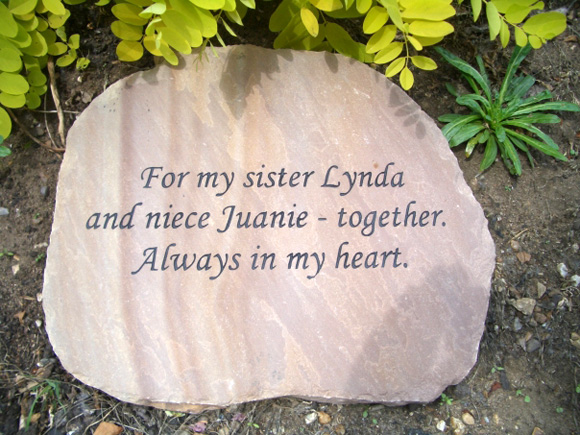 All our plaques are engraved with a decent deep engrave to ensure your personal memorial message lasts for hundreds of years.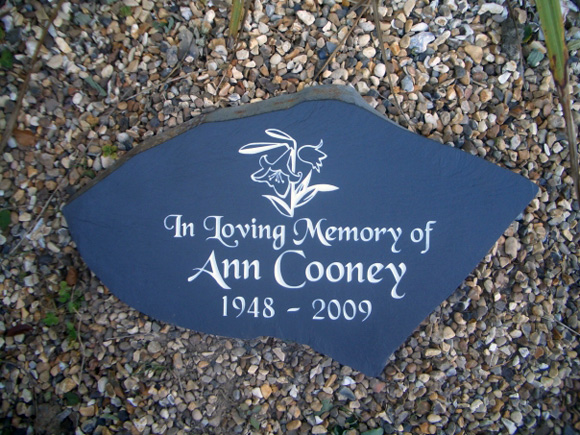 In loving memory of... a lovely slate memorial plaque with a really nice image and lovely use of custom fonts.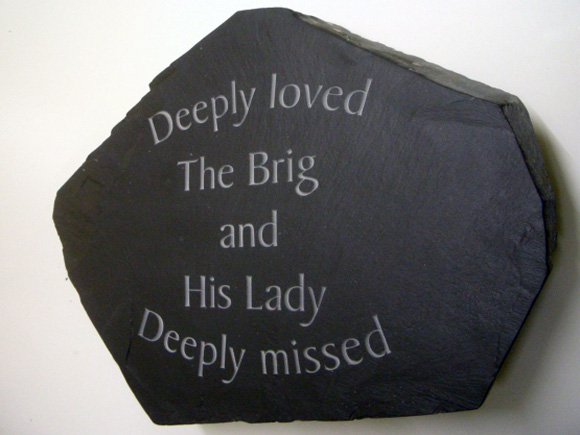 Our Products look great laying, standing and hanging on walls. Please contact us if you have special requirements.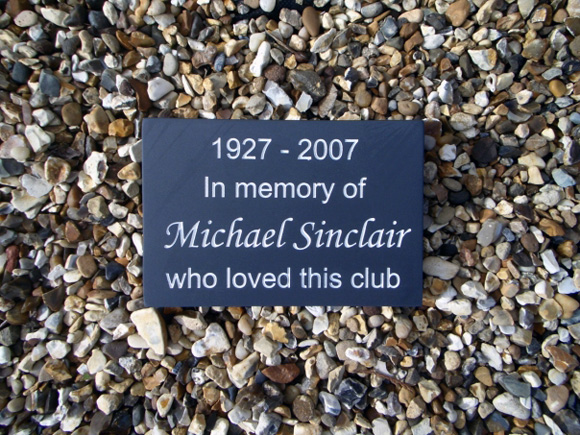 A small slate plaque looking great on some gravel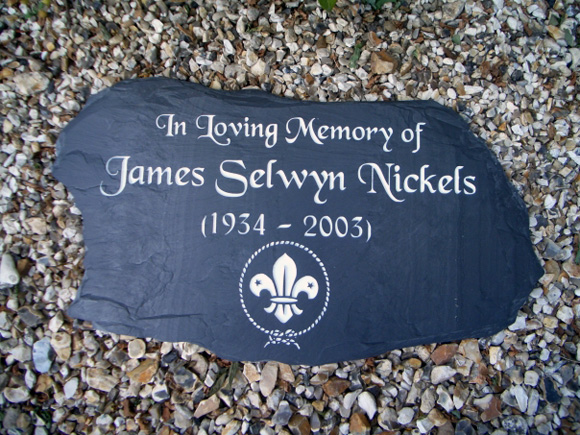 Slate plaques look great with high contrast gravel while sandstone and marble look great on low tone colours.
In loving memory of, personalize your memorial with a personal message for that someone special in your heart.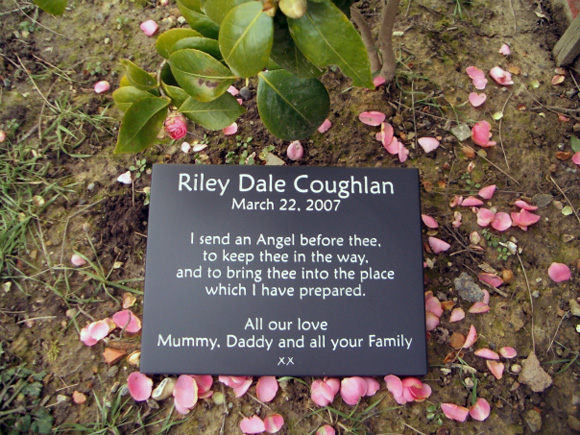 An absolutely beautiful contemporary memorial plaque with a glossy finish looking great in a garden with a gravel bed.
All our sandstone memorial plaques are from naturally formed rocks and all our hand-picked for the best possible quality.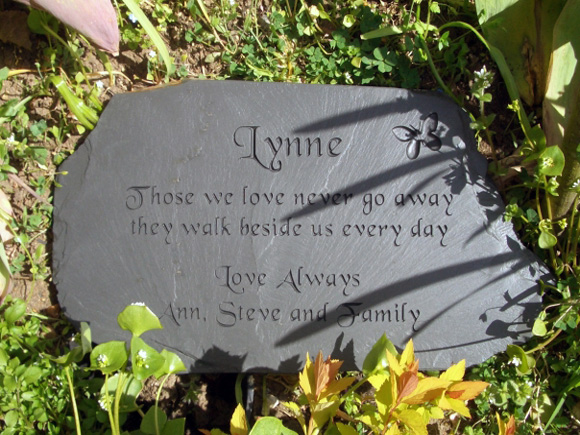 Slate looks great, but please do check our our marble and sandstone memorials as they look just as great.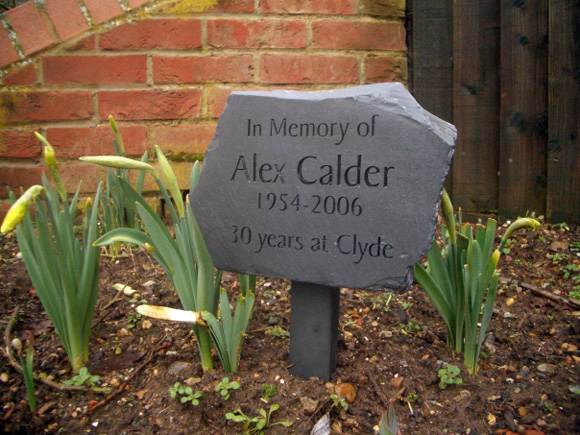 'In Memory of' slate memorial plaque with stand.
Sebastians Tree, an absolutely beautiful sandstone remembrance resting on a tree.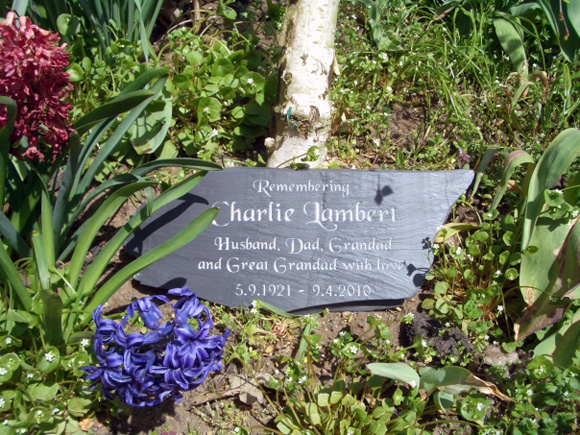 Any form of remembering stones are heavy but at Rustic Stone delivery is FREE!
Need to purchase a memorial plaque?
Please click the Design and Buy link found below.
Design and Buy one like this in the online studio – or Contact Us to discuss your requirements.
Types
Rough and Natural Edge
Our natural edge plaques are naturally splintered off pieces of rock which means these are completely unique and you will never get another exactly the same, ideal for unique people, family and friends. This type of grave marker really works well with all garden memorials and remembrance areas but please note that we are only able to provide this type in Welsh Slate and Sandstone currently
Furthermore while no cutting is performed on this type we do ensure that sharp edges are removed to ensure that when handling our product you do not cut your fingers or hands which will also prevent any wildlife or animals hurting themselves as well.
---
Square and Rectangle
Our regular straight Edge cut memorial plaques and tablets are ideal for more of a contemporary look as they are available in both square and rectangle dimensions in various sizes, all plaques are made out of sandstone, slate or marble. Some churches and remembrance gardens will not allow other types of memorial stones (It is worth checking with the relevant authority before buying, as everywhere has different rules and regulations on what is allowed).
If you decide to use marble there may be an additional delay receiving your marble memorial plaque as sometimes we need to order the size you require, if you would like to know the availability of marble then please contact us in advance.
---
Oval and Round
Please note: We have decided to stop stocking oval and round memorial stone plaques in all stone types 'Marble, Sandstone and Slate'. This is purely due to the fact there is not enough demand for this shape of stone, these shapes tend not to look very good for memorials in general.
However we are pretty flexible and can source different type of stones when required so if you absolutely certain that a round or oval plaque is ideal for your requirements then please give us a call on 0844 811 1373.
Materials
Welsh Slate
Our natural and straight edge slate plaques vary from one another, straight edge is "honed" which is a state between polished and natural. The finish is better described as "satin finish". We polish out saw marks from the sides and chamfer all the edges lightly. Images can be used as can decorative separators on dual memorials. These plaques offer the opportunity of borders also. Natural Slate Plaques come with a riven face (when the slate is split it reveals a "grain" a bit like wood) and usually 15mm to 20mm thick, often thicker. The lighter stone (sandstone) is chisel edged and brushed to soften the jags. The slate is handpicked for quality and shape.
Sandstone
Sandstone is lighter in colour than slate and we wanted to be able to offer a wider range of choice in this area so we tried all manner of stone to find something that was workable, practical and sustainable (lots of previous stone supplies dried up meaning we had to change the website again and again). We settled with the two types of sandstone that you see in the examples.
If you decide to use marble there may be an additional delay receiving your marble memorial plaque as sometimes we need to order the size you require, if you would like to know the availability of marble then please contact us in advance.
Marble
Marble is widely used for remembrances here in the UK and very commonly found in church grave yards so this may be the better choice should you want to be using this type of grave marker on private land, some churches and other private remembrance areas do not allow people memorial plaques on their property as a rule so please ensure that you check with your local regulators on this issue. We do not actively stock all sizes of marble stones since the demand on sandstone and Welsh slate is generally more commonly found, however we can source for you some of the finest marble around, please use the contact page or ring us to discuss your options.
Sizes
The sizes of our plaques start as little as 200x200mm and go all the way up to 900x900mm, should you require anything larger than the ones offered in our memorial design tool then please do contact us as we can order the size of stone you require from our suppliers.
Fixtures
Screws and Predrilled Holes
Most of the time our memorial plaques for people are laid flat within a remembrance area or garden, however from time to time we do receive orders that request that they want to be able to mount their stone vertically on a remembrance wall of some kind, this is not a problem for us and we can provide screw fixtures and pre drilled holes as well as a countersink. Furthermore we can also reverse fix so that there is no visible fittings of any kind on the face of the plate, Resin fixing is another option.
Resin Fitting
If you have a concern of screw fixtures then we can always give you a resin fitting type should you want something which is screw-less or if neither options are viable.
Durability
Since we use natural rocks and stones that have been on earth for millions of years our products will pretty much last forever, every product we sell requires a minimal amount of maintenance compared to other material types such as rusty metal and plastics. The only maintenance our grave stone markers require is the occasional touch up of paint on the text engraving, this can vary due to UK weather conditions such as strong wind with rain and sunlight which can fade the color of the paint, but with this said we do use extra-long lasting and high durability paint so it should last years without any touchups.
How to Purchase
Purchasing from Rustic Stone is pretty straight forward, we have designed a unique tool to allow our customers design the stone memorial plaque exactly they want it for that special someone. Once we have received your design and payment has been processed we will then make a mockup design which contains your design in better detail and a better idea what your item will look like, then we will wait for you to sign off on this design, what this means we will not start engraving onto the item until you are satisfied what the final product will look like, in the rare event you don't like the mockup then you will be issued a full refund.
If you have any questions what's so ever please don't hesitate to in touch with Rustic Stone, we have a dedicated and friendly team standing by to take your call.