Memorial Stones
We at Rustic Stone provide memorials for people that are informal and completely unique which will help aid you preserving your memories for that someone special who touched your heart. We have been in the making of funeral stones for over a decade and have over ten thousand sales online, we not only have the experience to ensure that your purchase of any of our stones goes as smoothly as possible but we also have the compassion and knowledge should you need further assistance in this troublesome time for you.
All our memorial stones and plaques are made with real solid rock that is sourced from various quarry's here in the UK, we always use the highest quality slate, marble and sandstone for our funeral stones and are perfect for all gardens, churches, and remembrance areas.
However with this said it is important that if you plan to use one of our plaques or headstones on private land that is not owned by yourself i.e. a church graveyard or an remembrance garden, then you will need to check with their rules, some churches do not allow the use of sandstone for example and some may not like rustic and natural looking plaques. Most churches these days have websites and have this information online and should be a quick check, if not you will need to ring them.
Below you can view many of our memorial stones that we have sold to various customers across UK, and the rest of the globe, if you like any of the examples displayed below and would like a near duplicate then please contact us and we will try and assist.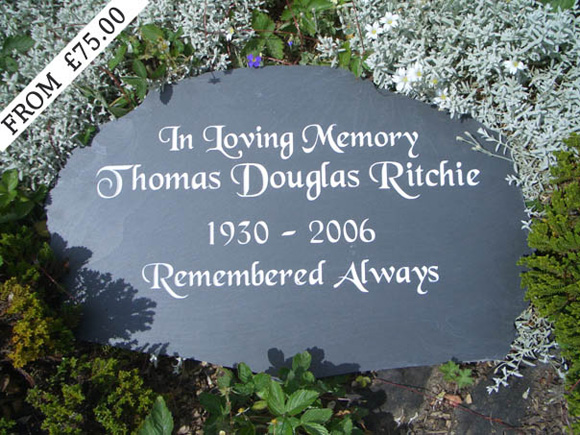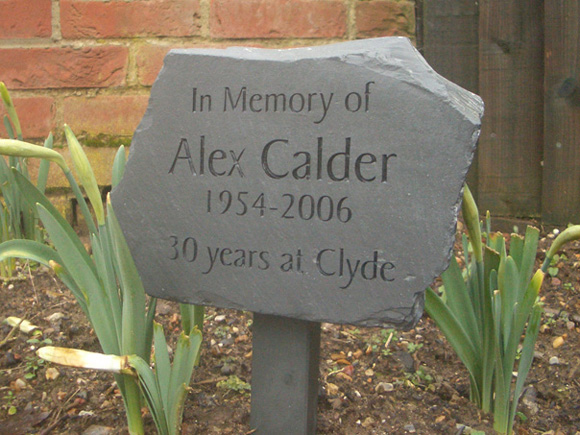 This is a lovely memorial stone that has been handcrafted for someone special, we used high quality Welsh Slate and was secured onto a post that works well in this flowery but not yet bloomed flowerbed.
We use the highest quality and handpicked rock for our people remembrance products, should you choose Welsh Slate, Marble or even Sandstone we will ensure that your purchase has the best possible shape and no visible cracks.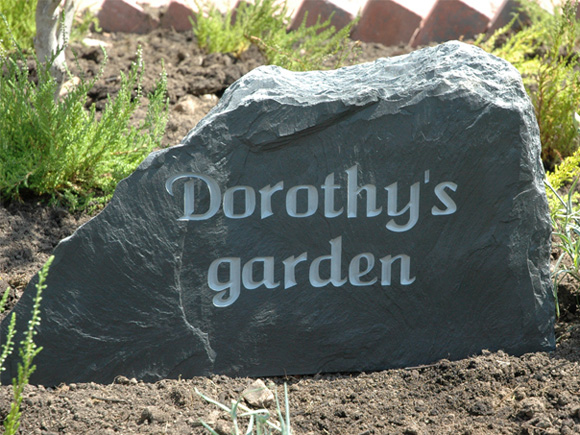 Our products work well on all garden types, should you want to use it on grass, soil, gravel or even leaning on a tree rest assured that your memorial will look fantastic.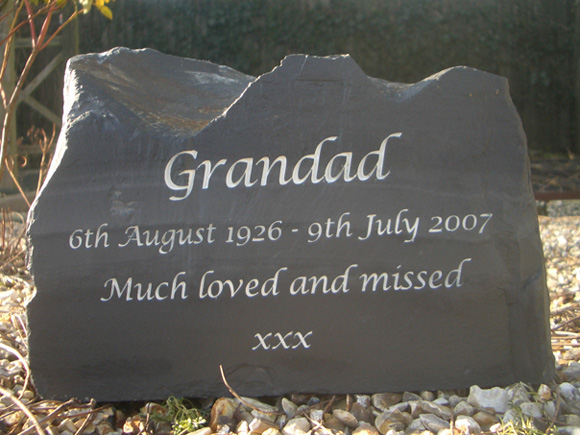 This Welsh Slate grave marker looks absolutely lovely on this stone and gravel based garden, no matter how long or short the personal message you want on your item, we will ensure it looks great.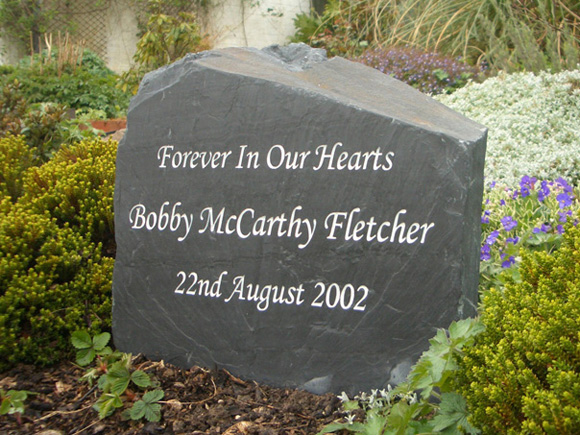 We always use a deep engraving technique that will display your message for hundreds of years, our remembrances are designed to last more than our lifetimes and many lifetimes after.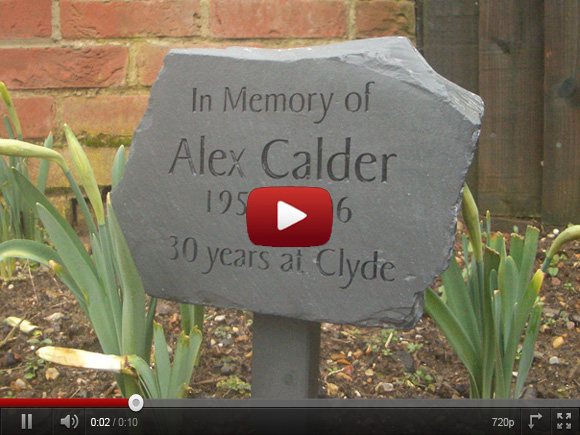 We have some these Stone Memorials displayed on Youtube and we will continue to add more pictures as our customers submit them to us, if you like the service and product you receive be sure to submit a picture wherever you place your stone.
Want to buy one?
Please click the Design and Buy link found below.
Design and Buy one like this in the online studio – or Contact Us to discuss your requirements.
Perfect for All Gardens
Our unique gravestone markers are perfect for all remembrance gardens and graveyards, our stones are very versatile and have been used to mark graves, trees, and to mark where some ashes were scattered.
---
Remembrance Types
We sell two difference types of remembrance stones that come in various different forms and use many different types of stone and rock. If you are looking for a plaque then please check our Memorial Plaques page, or should you be looking for a headstone then please check out our Memorial Headstone page.
We are pleased to announce that we are now stocking York Stone in the same format as our freestanding and upright slate memorials. 60mm to 80mm thick and available at all sizes. This stone can be secured into the ground (only necessary for the larger ones or ones at risk of being stolen) with steel rods that we can supply. York Stone is available for your design on the design tool
---
Quality
We take making of memorial stones very seriously, we source our materials from local quarry's here in the UK, all of the rocks we use for headstones and plaques are handpicked and checked for undesirable things such as cracks, we only hand pick the best looking rocks and stones so that they look great in all gardens with all different type of flowerbeds, gravel and grass patches.
It's worth mentioning that people have different tastes and we always check that our customer is satisfied with the design, size and shape of the memorial stone before we engrave onto it, we do this by receiving your custom design and we then pick a stone for you and send you a mockup with your personal message and the stone we have selected for your purchase, if you are not happy with the shape of it, then we will hand pick another and resend our mockup… In the rare event that we are unable to cater for the shape you require then we will be more than happy to refund your order.
Maintaining Your Memorial Stone
Our products do not suffer from rotting or tarnishing as a wood, plastic and metal memorial would, our stones are thousands to millions years old and will outlast you and anyone at Rustic Stone, the only maintenance our items require is the occasional brushing of leafs and maybe even a touch up of paint should the colors fade with time, which doesn't require a professional to do so. We will tell you exactly what paint you can use which can be obtained from any popular online or high street DIY retailer.
---
Personal Messages and Images
We are proud that our online designer allows our customers to fully customize their garden gravestone marker with dozens of preloaded fonts, choose from hundreds of images that can be engraved onto your remembrance or should you want too you can even use your very own image.
Unlike some funeral gravestone markers we do not preselect a maximum of use of characters, we will allow as much as the stone allows for, write a farewell message or even a poem in the choice of color of your choice.